I really gotta get better at this
I really need to try to get better at this blogging thing. Like, maybe it should be my new goal to blog at least once a month. Yeah, that sounds like a good idea. But, just because I haven't been blogging doesn't mean I haven't been knitting.
This (if you can't tell. I mean, the picture looks a little weird, like kinda "what the heck is that?" weird) happens to be the left front, back, and almost finished right front of the Arwyn sweater from the Interweave Knits Winter 2006 issue made with Knit Picks Wool of the Andes in Arctic Pool Heather.
I love how the cables look. It's so pretty. this probably would be done by now if i hadn't had to knit the back THREE TIMES. First time, I got almost done and realized my gauge was way off, way too tight. Weird, my gauge usually comes out loose. So, I go up a needle size and knit it again. I finished it and started the left front part. When I was done with that, I looked at the back and realized, I screwed up on the hem row of the back. That means that I had to pull out and knit those 86 stitches for 18 3/4 inches in STOCKINETTE ALL OVER AGAIN. So, naturally, I figured, instead of doing that, I should knit some socks. You know, to fend off the insanity of knitting in stockinette 3 times over for 18 3/4 inches. So, I looked through my yarn drawer for the perfect yarn. Something not blue. And definitely not light. Well, since blue and purple and pastels all seem to be my colors, there was nothing there. So, I was out of luck until I remembered a pair of socks I had only worn twice.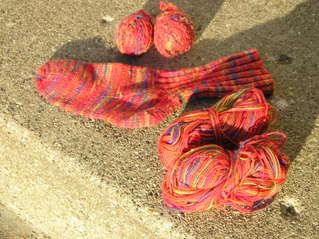 I frogged one of them, found the matching remainder of the skein and knitted this.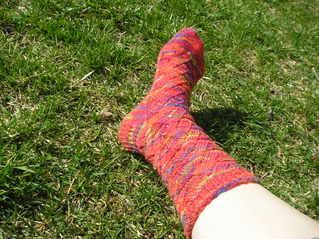 (It was weird sitting in my front yard, taking a picture of my own foot.) It's a
Monkey
sock from Knitty winter 2006. I'll knit the other one later. It definitely helped me not go insane from all the blue and stockinette. I spent most of my birthday money on the yarn for the Arwyn sweater, but look what else I bought.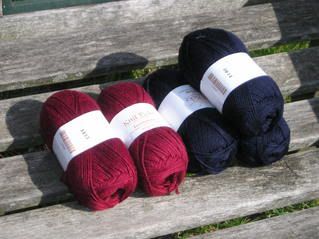 It's Knit Picks' Essential Solid in Burgundy and Navy, going to be the Entrelac Socks from the summer IK. Mom was making them (i'm not sure if she still is) but she was making them as just socks. I'm going to make them into knee socks. I can't wait to start. But, that comes after I make Abi some flipflop socks, which I promised to make after I finish my sweater. Oh, yeah, I almost forgot.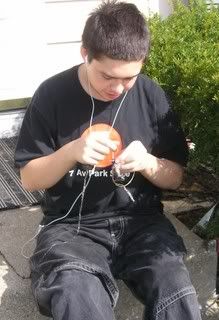 It's Graham (aka little dork brother). He's knitting a swatch of a little bit of yarn he spun, from my timberwolf roving (I would only give up a little).
He spun it so that he could prove that he could and then, he knitted it so he could prove that he can knit. It's pretty thick and thin, but it's cool looking like that. I think there's 3 rows of stockinette in there cuz he wanted to see if he remembered how to purl. He mostly just loom knits. Now, I'm plotting to get him really knitting. Next, he's making a
Garterlac Dishcloth
.